"This neighbourhood cocktail bar is the place to meet the locals." ~ Monocle Magazine
Monday - Saturday: 4pm - 11pm
Proof of Vaccination Required for Entry.
FREE PARKING AT 5-POINTS DINER AFTER 4p!
Mike Baggetta 3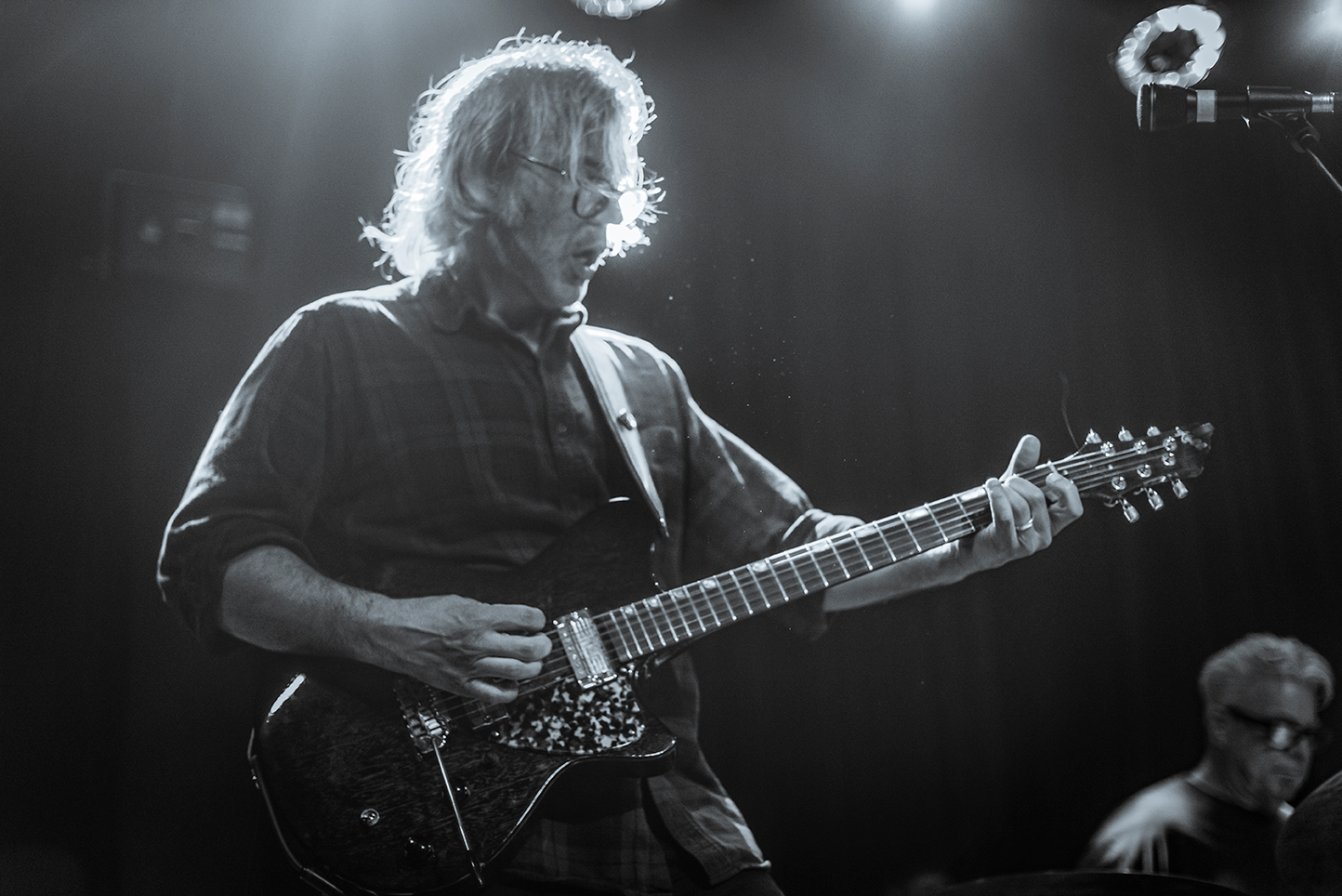 Mike Baggetta: guitar, live processing
Daniel Kimbro: Bass
Jordan Perlson: Drums

"…vintage twang in service of Americana-meets exploratory Jazz-psych…"
-Rolling Stone

"Guitarist Mike Baggetta bends notes, and his genre, to make music that sounds like life."
-Ted Drozdowski, Premier Guitar

"Mike Baggetta makes stealthy, mysterious music … he's trying to do something personal with collective improvisation without ever getting in the way of beauty."
-Ben Ratliff, New York Times

"…a kind of post-Frisellian sonic explorer … with his wild whammy-bar articulations, ambient looping and rippling arpeggios … full of subversive surprises, hellacious skronking, string-scraping and a general hornets' nest of fuzz-toned dissonance"
-Bill Milkowski, DownBeat Magazine / Slate Magazine

"Mike Baggetta is a genre-blurring guitar hero...at the forefront of an army of guitar innovators"
-JazzTimes
Rodriguez, Baggetta, Kehrberg, & Davis
Jacob Rodriguez: Saxophone
Mike Baggetta: Guitar
Kevin Kehrberg: Bass
Michael W. Davis: Drums

Asheville Art Trio
When the originators of the Asheville Original Music series—bassist Mike Holstein and drummer Justin Watt—teamed up with pianist Dr. William Bares (Harvard ethnomusicology Ph.D and professor of music at UNC Asheville) a decade ago to create a working jazz piano trio, the result was a new musical concept that has blurred the lines between art and entertainment, structure and spontaneity. The group has has evolved a sound that combines elements of global music, Americana and jazz in ways that are recognizably artistic and quintessentially Ashevillian.
Asheville Jazz Collective
Asheville Jazz Collective brings together the performing and composing talents of recent transplants Alan Hall (drums, founder) and Josef Butts (basses) with UNCA professors Steve Alford (woodwinds and bass) and Bill Bares (piano and keyboard). A.J.C. has an open-ended policy regarding the styles of jazz we choose to compose and play. Our musical influences range from Ellington to ECM, "The Bad Plus" to Bach, Tomasz Stanko to Tito Puente, and Ornette Coleman to Olivier Messiaen. We always aim for a richly felt performance of originals and standards for our audience.

Founder Alan Hall's previous California group "Ratatet", has released two albums on Ridgeway Records (Arctic and Heroes, Saints and Clowns), and has recieved rave reviews. "Kwirkestra" his most recent group formed at the beginning of Covid, has released three music videos on YouTube and includes an international cast of his musical peers in a virtual musical format.

Alan Hall: Drums
Steve Alford: Reeds
Bill Bares: Piano
Zack Page: Bass
Jay Sanders' Sinfonietta
Come listen as Sinfonietta dives into leviathan sounds; exploring the textures and dynamics of the deep. For even jazz has the power to Awaken the Cacodaemon, chase the Flyswatter, revel in the MorningTide, and elevate the Seagull to resplendent heights. When we are Playin' In The Yard we are all Pioneers.

Jay Sanders: Guitar
Steve Alford: Reeds
Zack Page: Bass
Tyler Householder: Percussion
Evan Martin: Drums

"This Five Points neighborhood bar takes cocktail history seriously—it's named after a New York bar once run by illustrious nineteenth-century barman Harry Johnson. The drinks menu recently was revamped after a pandemic-long season of sampling and testing. (Yes, that beats however you spend your pandemic.) There's no better excuse to pull up a seat and see what's new and delicious."
"Little Jumbo was everything we could have wished for in a cocktail bar, and then some. Every cocktail has 5 ingredients or less to expedite the process, but don't worry, the flavor is not compromised. We were totally impressed by the Manhattan service for Two, which was presented on a silver platter with necessary accompaniments- including a bowl of cherries!?"
"This warmly welcoming cocktail bar has a classic vibe and a focus on good, unpretentious service. Isn't that the way all bars should be?"
"Little Jumbo has a comfortable yet modern feel, lacks affectation and focuses on the drink and the experience."
"As you sip your drink, you feel a cozy intimateness, yet there's a buzz to the atmosphere that makes you feel like you're a part of something bigger… a community, a neighborhood."
"Simply put, Little Jumbo should be at the top of your list of places for cocktails in Asheville. The drinks and service are both top-notch, and the atmosphere is reminiscent of a relaxed speakeasy, without a trace of the pretention that can sometimes be found in such places."

Slings & Arrows Consulting is a full-service boutique hospitality firm from the team behind Little Jumbo. Slings & Arrows is designed to turn your idea into a fully realized and cohesive bar/restaurant concept. Our work is driven by a desire to create spaces and foster endeavors focused on excellent service and quality drinks.
Developers, future clients, soon-to-be collaborators, enthusiasts and friends: learn more at slingsarrowsconsulting.com or email us at hello@slingsarrowsconsulting.com